LUGGAGE TAGS - Luggage SPOTTER - Suitcase Spotter - Zen Tangle - Leather Strap - Travel Aid - $15.00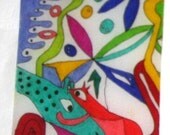 LUGGAGE SPOTTERS - It can sometimes be difficult to locate your black suitcase amongst a sea of others...well no more! Each tag or "spotter" is a UNIQUE PIECE OF ART. All designs are original illustrations.
Attach these cheerful, bright, unique tags to your luggage and spot YOUR suitcase easily.
I have created these tags using "zentangle" (a highly meditative illustr...
Click Here to Visit My Etsy Shop!