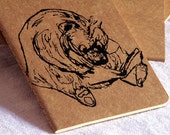 Bears and Books - Hand printed silk screen Gocco printed cover. Image is from an original sketch.
Each notebook has it's own unique perfections! This is due to the nature of hand printing, making each booklet OOAK (One of a kind).
The Moleskine Cahier [kaa yAy] Pocket Plain Notebooks with plain (blank) pages, each with a heavy duty cardboard cover with visible stitching on the spin...
Click Here to Visit My Etsy Shop!