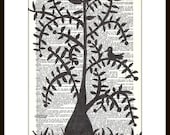 This listing is for print 2 of 25 (2/25). Once I have sold 25 of this print it will never be sold as a numbered print again. (The original has already been sold)
This is a signed, dated and numbered piece of folk art. I have taken a vintage dictionary page - Merriam Webster c. 1965 and using the word "Above-ground" as my inspiration, have created this unique piece of original folk art.
Click Here to Visit My Etsy Shop!