Bears and Books - Original Watercolor on Screenprint - Signed and Dated - Mixed Media - Reading - Library - Teddy - Nursery - Children - - $10.00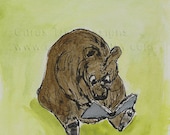 This listing is for mixed media print of BEARS AND BOOKS only. Other images to give an idea of what the piece might look like framed.
Created by taking an original sketch, creating a silkscreen image of that sketch and then hand coloring using watercolor paints.
Size of the painting is 6 x 6. The paper is heavy weight (140 lb) 100% cotton hot pressed professional watercolor paper.
Click Here to Visit My Etsy Shop!