Jasper - Original Painting - Gentleman Portrait - Ancestor Painting - Acrylic on Canvas 24 x 36 - Signed and Dated by Stacy Beck - Bowler Hat - Dog Portrait - Dog - - $350.00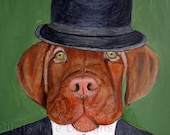 This is an original painting by Stacy Beck. Acrylics on 24 x 36 inch gallery wrapped canvas. Sides are 1/2" deep and painted black.
This beautiful painting can be hung either framed or unframed...See second photo for full image of the painting. Third & fourth images show a detail. Other image to show what it might look like framed.
Painting will arrive at your doorstep safely...gua...
Click Here to Visit My Etsy Shop!