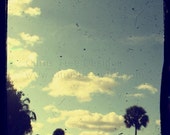 Listing is for VACATION print only...other images are included to give a sampling of my work.
This is a "Through the Viewfinder" photo. The scratches, flecks, black border,etc will be visible on the print. These artifacts lend to the beauty and charm of each print.
I have used an old Kodak Duaflex II camera along with my trusty Canon digital...this is actually a picture of wha...
Click Here to Visit My Etsy Shop!